For Immediate Release
10/26/2018
Temperature and Humidity Resistant LCD Modules - Display Solutions for Solar Inverter or EV Charging Applications
Application Spotlight, October 2018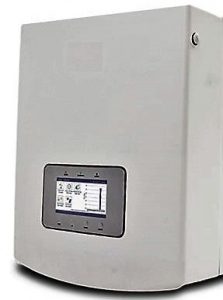 ZETTLER Displays (HK) has integrated high-end polarizers and liquid crystal fluid into a select list of LCD monochromatic modules, capable of passing stringent 85C /85% RH (Relative Humidity) 1000 hours reliability test conditions. These LCD modules have an enhanced operating temperature of -30C to 80C. At low temperatures, the liquid crystal fluid maintains its viscosity, allowing the IC to refresh the data logic without any latency in the response time. At the high extreme of the operating temperature spectrum, the polarizer and adhesive materials are able to withstand the heat without warping the film and damaging the optical performance of the LCD module.
Application Example: Solar Inverters and/or EV Charging Stations
In the recent past, ZETTLER Displays (HK) has supported a range of design activities in the Solar application and Electric Vehicle charging markets. These applications call for compact and robust designs at competitive prices, which are supported by ZETTLER Displays (HK) with the following LCD modules:
| | | |
| --- | --- | --- |
| Series | Description | Viewing Area |
| ACM1602KW | 16 x 2 alphanumeric LCD module | 64.5 x 16.4 mm |
| ACM2004D | 20 x 4 alphanumeric LCD module | 76.0 x 25.2 mm |
| AQM2416 | 240 x 160 dot matrix LCD module | 78.5 x 47.5 mm |
In addition to meeting the stringent quality requirements to withstand high temperature and humidity exposure, our displays also support "smart management" features, in form of a visual interface designed to help control the overall PV or EV application.
About ZETTLER Displays (HK), Inc.
ZETTLER Displays (HK) Inc., a division of ZETTLER Group, manufactures and markets a broad line of digital TFT panels and LCD modules, and is an industry leading provider of top quality display solutions in a wide range of industry applications. ZETTLER Displays (HK) operates wholly owned engineering and manufacturing operations in Xiamen, China and has sales, application engineering and distribution infrastructures in North America, Hong Kong and Europe.

For more information
Zettler Display Support +852 2116-2016
sales@zettlerdisplayshk.com
www.zettlerdisplayshk.com
For more information:
ZETTLER Electronics (HK) Ltd.
Unit 2A, Wing Tai Center
No. 12 Hing Yip Street, Kwun Tong,
Kowloon, Hong Kong
Phone: +852-2375-1227
sales@zettlerhk.com