For Immediate Release
12/3/2020
ZETTLER Displays supports Thermostat Display Industry with wide array of custom solutions

ZETTLER Displays continues to expand its share in LCD display modules catering to the ever -growing market of residential and commercial thermostat control units. From low-cost basic function thermostats (custom glass with backlight) to smart home (Wi-Fi) systems (IPS LCD modules w/ PCAP touch), ZETTLER Displays continues to successfully support multiple key players in the industry with highly customized solutions.
ZETTLER Displays has been able to provide display solutions for thermostat units - both in commercial segments such as restaurants, hotels, and offices, as well as in home applications.
Our ability to support solutions ranging from low-volume custom modules for luxury hotels (500 units) to low-cost "contractor friendly" solutions (1M+ units) has enabled us to develop a broad customer list of manufacturers in the industry.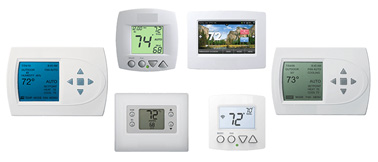 With short design, tooling, and production lead times, we can keep our partners ahead of the competition with new and exciting designs, tailored to specific target audiences.
ZETTLER Displays' continued ability to provide flexible and added-value solutions beyond the product, such as drop-shipping to CM locations all over the world from our Far-East factory has helped customers with a streamlined supply-chain, swift production cycles and low logistics costs.
Recently we worked with a leading manufacturer in the "smart" market space to implement a modular style solution in which our 4.3", 5.0", and 7.0" displays were all interchangeable. This customer wanted to offer three different solutions to the market without having to design individual controller boards. By ensuring the resolutions, backlight driving conditions, and interface were all identical, the customer was able to use the same software and hardware (PCBA), with only a difference in the enclosure plastics to consider. This enabled the customer to maintain a competitive edge in the market by having lower BOM costs by using the same components across the different models.
Please contact us for more information on demos or samples
For more information:
ZETTLER Displays (HK) Ltd.
Unit 2A, Wing Tai Center
No. 12 Hing Yip Street, Kwun Tong,
Kowloon, Hong Kong
Phone: +852-2116-1206
sales@zettlerdisplayshk.com